Reflections
What is it like being a part of the Leadership Lab International community?

Step alongside our participants as they share their experience with you, one step at a time!

Transform 2022
Meet the Team
Click on Photos to Read Reflections.
Claire
This is What I Discovered
God has used Leadership Lab International to teach me how to rely on His plans and not my own and to rely on my teammates.

The biggest example was when I broke my foot on the first day of camp. I was running around playing ultimate frisbee and fell, twisting my ankle and breaking two bones in my foot. I was rushed to the emergency room and got a cast. I then had to walk on crutches the rest of the week and had to be careful to not overexert myself. I longed to still be involved as much as possible and, though there was a lot I could not do, I was still able to lead a small group and get close to the campers that I roomed with.

Before my accident, I had planned to be very physically active, to run around with the campers, and to help lead rock climbing for one of the activities. I had a vision for what camp should look like and a clear purpose but, after my injury, my plans fell through. My team had to be flexible and fill in my role in leading climbing. I knew that God had called me to Leadership Lab International and to serve at the MK camps and that He knew about my injury.

I had to trust that He still had a purpose and plan for me and my role. I had to give up my own vision and focus on what God had in store for me.

During the camp, I was able to still lead a Bible study for the girls in my room and connect with them. My girls were quiet, shy, and not as active, which meant that I could sit with them and talk to them. I made bracelets and played card games with them. I could still listen and pray for them. I was able to write encouraging notes to my teammates and to the girls in my room. I was also able to bake banana bread for the campers and cherry cobbler for the staff. My team came around me to support and encourage me. They gave me rides on their back when I was too tired to walk on crutches, and they encouraged me throughout the week.

God still used me throughout the camp even if it was not how I had originally planned. Looking ahead to this second camp, I am excited to give God my hopes and desires and see how He will guide me.
moriah
God Changed My Life Through LLI
They say a picture's worth 1000 words. Well, we took a lot of pictures this week and I don't think any of them capture all I want to say about this summer.

LLI changed my life. Well, really, God changed my life but He definitely used LLI.

It's hard to look at all the day to day tasks and see what he taught me. Which is unusual for me because, normally, I'm very sure of what I have learned through something and can see how God is using or has used something in my life. But this time I can't see one overarching theme yet.

If I learned nothing else during this training, I learned that everyone thinks 22 hour layovers are long, that bee stings hurt (a lot, depending on the bee) and that, according to middle schoolers, my name is correctly pronounced by putting 100x more emphasis on the "I" than on the rest of my name.

Thankfully, I did learn more on this trip.

I learned so much about teamwork and communication and asking questions.

I learned that God is sovereign.

I learned that the Bible - even the most familiar passages - always has more nuggets of truth for you.

I learned that, while I love that people love European food, Croatian food isn't exactly my vibe.

I learned that everyone has a story, a background, a personality. And that these shape how they're going to live and be a part of camp. Sometimes I think that's the best thing ever and sometimes it's one of my least favorite things. But just because I disagree with how someone does something, and just because I would do it differently, it doesn't mean others are wrong.

I learned that goodbyes don't get easier. But it does get easier to trust God with those you are saying goodbye to.

I learned that I still love Missionary Kids (MKs) and I would love to do something like this ministry long term.

I think I was expecting this to be a place where we changed lives. But I think these MKs changed me more than I changed them. These kids are so mature for their age. But they shouldn't have to be.

And I think that's what camp was for them - a chance to take a step back from life and just be free to be kids. I thought we were going to have lots of deep conversations and teach truths about God. And we did have some of those.

But I think what I pulled away from camp was that MKs - just like anyone else - need space to be at home, to belong, to rest and to not have deep conversations or put on a face but just be kids and have fun and be free to be silly and wild and laugh together. Because kids are kids no matter the age. And our culture doesn't allow for that - kids are growing up so fast. Camp was an opportunity for them to take a break and just be kids.

And we got to provide that space this summer, and there's ways I will continue to get to provide that space in the future. I can't wait to see how God uses this camp, the staff, the kids, and me in the future!
NOAH
When Rain Declares The Glory of God
As part of his TRANSFORM training, Noah served as camp director during two Missionary Kids (MKs) camps.
Here is what he discovered in the process:
Coming into camp, I did not know how to lead my team as camp director.
The day before the campers arrived for the first camp, I was overwhelmed by all the preparation work we had to do. My co-director and I did not have a plan for the camp to give the team. As I was about to try to plan out the camp's weekly schedule, God graciously put it on my heart to read the Sermon on the Mount, which we would be focusing on throughout the camp.
While reading this part of Scripture, God drew my attention to Matthew 6:33 which says:
"But seek first his kingdom and his righteousness, and all these things will be given to you as well."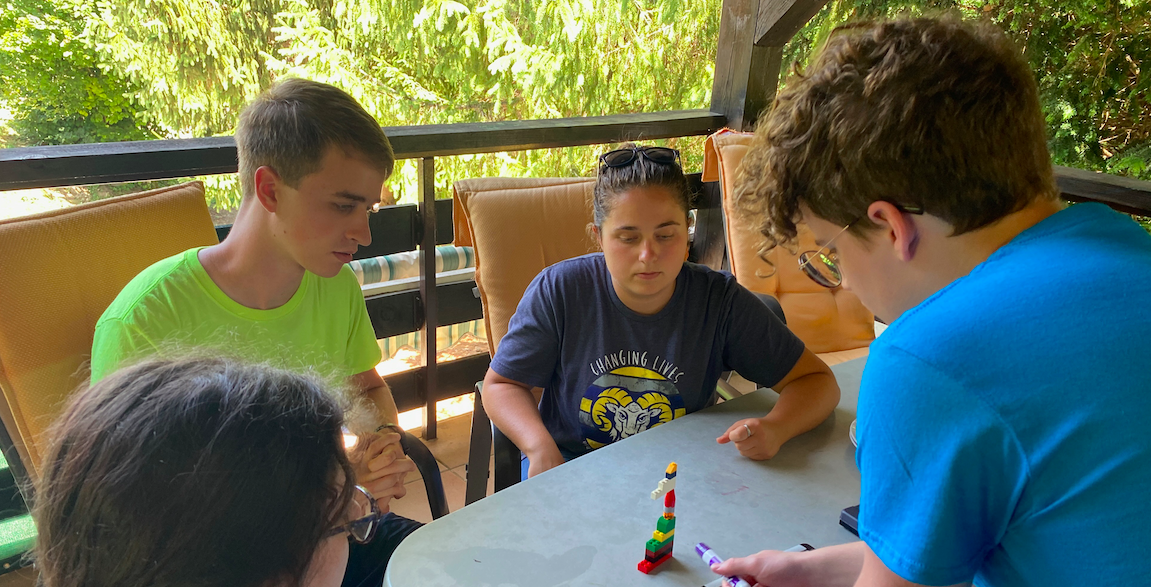 The moment I read this verse, I realized I had the wrong mindset toward directing camp. I had been so focused on the task of directing that I had forgotten to ask God what His will was for the camp.
This is when God led me to introduce to MK Camp a material centered around the campers meeting with God through His creation. On what I thought was going to be the third full day of camp, the campers would have an hour or more on their own to go through a material called Solitude that tries to help people slow down and take the time to listen to and see God through the amazing Creation He has made.
Through sending rain on morning of the first full day of camp, God showed me that He wanted the campers to start their time by going through this material so that they would also have the chance to seek first His Kingdom. I had always viewed rain as an obstacle to camp as it usually messed with the sports days, but God was teaching me that He was in control of the weather, and He could use rain to reveal His will for the day.
As Psalm 19:1-2 says,
"The heavens declare the glory of God; the skies proclaim the work of his hands. Day after day they pour forth speech; high after night they reveal knowledge."
God showed His will through the rain to our camp team and helped us and the campers seek Him first. After seeing God work in the two MK Camps, I can confidently say that after our team sought God's Kingdom first, all the rest was given to us.
This is something I am taking into my daily devotion times as God has helped me see that before I do anything in the day even on my phone, I should spend time in His Word because of the blessings that come from seeking Him first every day.
What is TRANSFORM Training?